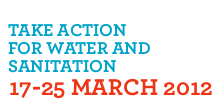 The Water, Sanitation and Hygiene Network (WAS alongside other partners in the WASH sector, asks you to become part of a global movement this World Water Day and join The World Walks for Water and Sanitation!
Between 17 to 25 March 2012, thousands of people across the globe will walk together to demand action to end the sanitation and water crisis.
Millions of people have to walk great distances each day to collect water. And more than one in three human beings lack a clean and private toilet. Unsafe drinking water and poor sanitation means a huge human and economic cost such as premature death of small children, girls missing out on school and families spending their income to medical bills. In addition, women often trapped in unsafe and shameful situations.
Earlier this year, an amazing 350,000 people in more than 75 different countries from around the world joined the World Walks for Water campaign to demand that politicians in the North and South keep their promises and step up their efforts to protect the right to water and sanitation for all people.  We took their voices to the Fourth United Nations Conference on the Least Developed Countries in May 2011 and this directly resulted in strong and ambitious sanitation targets being included in the Istanbul Programme of Action. And there were great national successes too! Following the campaign, Nepal's sanitation budget was tripled and Germany took decisive action by agreeing to join the Sanitation and Water for All partnership.
This year, the timing of the World Walks for Water and Sanitation event is crucial – just one month after this mass global action, world leaders will gather in Washington DC at the Sanitation and Water for All second High-Level Meeting to discuss what they're going to do to tackle the crisis claiming 4000 children's lives every day. And it's up to us to make sure they know that the world expects action. It is really important that your Development or Finance Minister attends this meeting – and you can take the opportunity of your 'Walk' to invite them to attend and demand that they commit to increasing provision to get water and sanitation to the world's poorest communities.
How can you get involved?
Between 17th to 25th March 2012, thousands of people across the globe will walk together to demand action to end the sanitation and water crisis. Whether you're a university, school, youth group, NGO, Civil Society Organisation or company – whoever you are, wherever you are, you can get involved!
Your walk can take place anywhere with any amount of people and be of any length – it's easy!  Dress up as taps and toilets, dance, sing, invite celebrities and politicians – whatever you do, make sure you have as much fun as possible!
Invite politicians to walk with you or deliver a petition or invitation to the High-Level Meeting to their offices- it's up to you but remember this is about political action and applying pressure on decision makers.
To find out more about how you can get started and organise your Walk for Water and Sanitation, take a look at our brand new campaign toolkit. It's packed full of information, ideas and tips for how to make your walk a success and have the biggest political impact possible.
Again, a key moment in achieving this is the second Sanitation and Water for All High Level Meeting taking place in April 2012. This is where the Finance ministers from the Global North and South will meet to act upon the water and sanitation crisis. By acting together, in our thousands, all over the world, we can make governments take the actions needed to ensure clean water and sanitation for all.
We need you to get involved and make a stand! Visit: http://www.worldwalksforwater.org/eng to find out more and to sign up to take part.